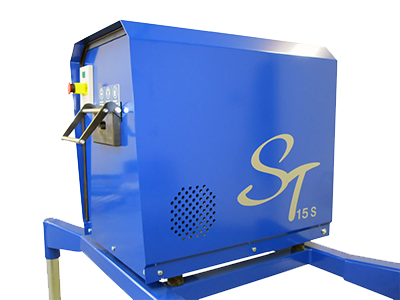 Nimetech ST
Numerous companies will have to pay more and more attention to waste management and its costs. Due to that, it pays off for companies that produce waste to plan waste. This results in lower transportation costs.
Nimetech ST shredders are designed to economically process metal scrap, plastic waste, electric wires and cables.
Nimetech shredder can be customized based on different customer needs. In addition to the shredder, the delivery can include a feeder, a conveyor and a transport container.
Nimetech ST shredders are produced entirely by Nimetech Ltd.
Nimetech ST Light
Drive speed 16,9 m/min
Shred lenght 16 mm
Feed opening 8 x 30 mm
Motor 550W, 3-phase
Weight about 46 kg
Size (length x width x height) 520 x 322 x 365 mm
Material
Plastic / PET / PE / PP packaging bands (1 pc), max. 25 x 2 mm
Nimetech ST-15-S
Drive speed 25 m/min
Shred lenght 50 mm
Feed opening 19 x 55 mm
Engine 1,5 kW, 3-fas
Weight 240 kg
Height 700, 1200 mm
Material
Sheet metal rails 1 x 55 mm
Flat bar iron 3 x 25 mm
Iron wire Ø 4 mm
Cabel wire Ø 2 mm
Copper and aluminium bars Ø 6 mm
Packing brands with yokes (19 mm)
Cabels
Nimetech ST-15-P
Drive speed 25 m/min
Shred lenght 50 mm
Feed opening 19 x 55 mm
Engine 1,5 kW, 3-fas
Weight 240 kg
Height 700, 1200 mm
Nimetech ST-22-HD
Drive speed 25 m/min
Shred lenght 50 mm
Feed opening 19 x 55 mm
Engine 2,2 kW, 3-fas
Weight 260 kg
Height 700, 1200 mm
Material
Sheet metal rails 1,5 x 55 mm
Flat bar iron 3 x 30 mm
Iron wire Ø 6 mm
Cabel wire Ø 4 mm
Copper and aluminium bars Ø 10 mm
Packing brands with yokes (32 mm)
Cabels